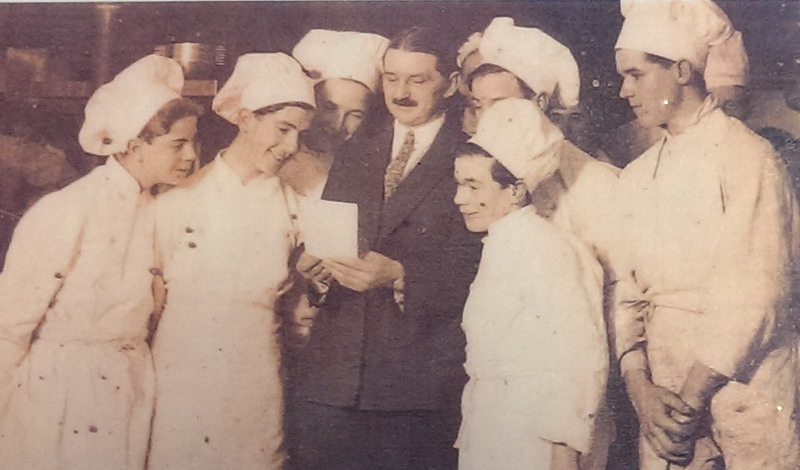 Zenon Geldof was born in Boesinge (Ypres) Belgium in 1882 and served his time in confectionery in Bruges.
His early experience in London's top hotels led in 1903 to his appointment as grill cook and pastry cook in The Automobile Proprietary Ltd. in Picadilly. He met his wife Amelia in London and following his appointment to the Bray Head Hotel in County Wicklow he chose to make Ireland his home. He soon established himself as a chef with a reputation second to none, being awarded numerous prizes. At the Irish Food and Cookery Exhibition in the Rotunda he was awarded Gold Medal and 1st special prize in class "Y - Decorative Socles".

He worked in The Royal Marine Hotel (1907-10), became chef de cuisine at both the Central Hotel Dublin (1910-13) and Jury's Hotel College Green (1913-17). During the First World War, as a Belgian citizen he went to Manchester to volunteer his services in the army but was put in Reserve Group Number Seven since he had a young family. (The end of the war had called groups one to six). As head chef in Jury's during the 1916 uprising, he experienced bullets flying through his kitchen and needed a specific permit to allow him home from work at night.
He spent a number of years in Cork, first as chef/manager of the Saint Anne's Hill Hydro in Blarney (1917-19) and then as chef and manager in Crosshaven Hotel in West Cork (1919-21) before returning to Dublin. During the Irish War of Independence, Crosshaven ignored the "curfew" laws in force in Cork city and Zenon's son Herbert recalls that the "Black and Tans" mixed nightly with Irish rebels in the bar rooms there in a truce of mutual drinking.
In 1921 Geldof and his wife opened the Cafe Belge at 34 Dame Street and later the Patisserie Belge at 1 Leinster Street below the famous Finns private Hotel and Restaurant, where James Joyce in 1904 met Nora Barnacle. In Leinster Street on his son's confirmation day he was held at gunpoint, mistaken as a spy, until his wife, a powerful woman intervened and sorted out the misunderstanding. On leaving, one pistol-wielding soldier patted the terrified boy (Sonny) on the head and said "this must be the happiest day of your life".
When the Plaza Restaurant was opened in Middle Abbey Street on the 8 November 1928 the role of manager was bestowed on Zenon Geldof. Newspaper reports from the time describe the scale of this fine restaurant: "Six hundred to a thousand can sit down at tables and every patron can be assured that each morsel has been prepared by one of the eight French chefs who work under the direction of the head chef, lately chef de cuisine on the famous Palais George V., Paris" (Dublin Evening Mail 8 November 1928). Eight French chefs were employed and in accordance with the wishes of the Ministry of Industry and Commerce, the Plaza took six Irish boys in for training under Zenon Geldof's management "thus providing opportunities for brilliant careers for ambitious Irish youths". The Plaza proved to be too ambitious for Dublin at the time and having failed to acquire a spirits license, closed its doors after over a year in business. A fire later damaged the building.
Zenon Geldof set up the Belgica-Hibernia Trading Company importing floor coverings, cafe furniture and food from Belgium and wine from France. He joined the newly formed Irish Tourist Association. In 1929 Albert King of Belgium presented him with the Chevalier de L'Orde de Leopold II in Brussels for his work in restaurants abroad and representing Belgian firms in Ireland.
He had four children, Herbert (Sonny), Robert (Bob), Mai, and Cleo. Bob followed his fathers' profession and worked as chef in London's Carlton Club and later with the Cunard Line, crewing on the Queen Mary's maiden and many subsequent voyages before returning to Ireland. Zenon was tragically killed 22nd June 1939, aged 57, in a car crash along with a French wine exporter from Bordeaux, Monsieur Pierre Peyrelongue in Waterford. His eldest son, Herbert, took over the running of the Cafe Belge and the importation business. The Patisserie Belge shut during the war due to shortages of raw ingredients and the Cafe Belge was sold after the war.
Herbert continued as a manufacturer's agent selling textiles; towels, curtain fabrics, upholstery fabrics, glass (Phoenix) and rugs. His brother Robert (Bob Snr.) father of "Sir Bob" joined the company when he returned to Ireland. The company was run as a family business by the two brothers and in 1974 Herbert's son Paul joined them.

Bob (Snr.) worked covering every county until he retired in his late 70's. Herbert (Sonny) continued to work until 5 weeks before he passed away at the age of 93.
Paul has continued to keep the family business going; the company has survived two recessions and will hopefully continue on for some time yet.